With the holidays quickly approaching. Here are a few simple drink ideas that will get your party LIT!
VAMPIRE BITE SHOTS
Ingredients
1 Part Coconut Rum
1 Part Peach Schnapps
1 Part Vodka
Splash Grenadine
Instructions:
 
1. Add ice, coconut rum, peach schnapps and vodka to a shaking glass and combine until cold.
2. Strain mix into shot glass.
3. Garnish edge of glass with vampire teeth before adding a splash of grenadine.
DRINK RESPONSIBLY!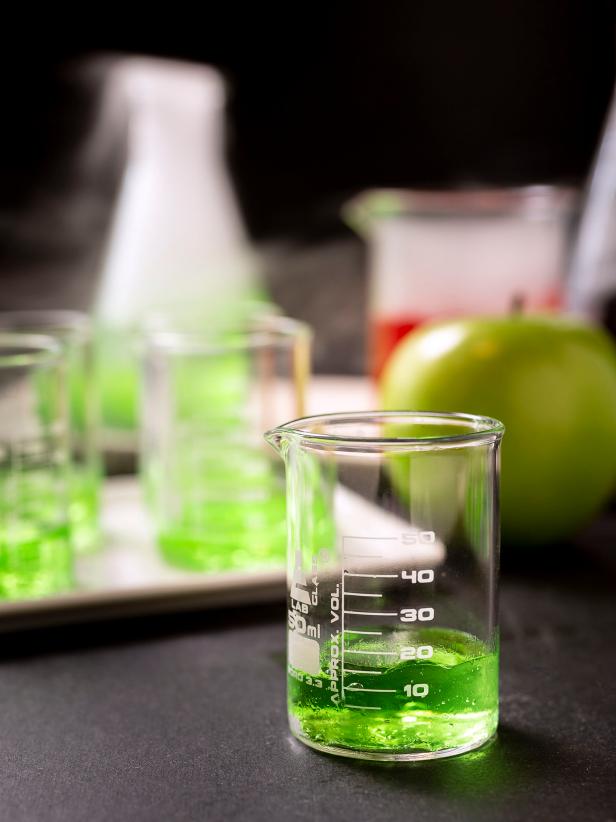 Toxic Jello Shot
Ingredients
2 packages green apple gelatin
2 cups water
1 cup vodka
1 cup green apple liqueur
1-1/2 teaspoons citric acid
Instructions
Bring water to a low boil and remove from heat.
Add gelatin powder and citric acid. Whisk to dissolve.
Add vodka and apple liqueur and stir to combine.
Pour liquid into a 9″x9″ cake pan. Refrigerate until set, about 4 hours.
When gelatin has set, cut into cubes or cut with a small circle cutter. Place cut gelatin in small shot glasses or tiny beakers for a fun Halloween effect. 
Tip: Alternatively, you can pour the liquid directly in plastic disposable shot cups if desired.
SPIKED HALLOWEEN PUNCH
Super Simple Spiked HOLLA-Ween Punch
INGREDIENTS
orange soda
sparkling wine ( or wine of your choice)
vanilla ice cream
INSTRUCTIONS
Mix one part soda with one part sparkling wine.
Add scoop of ice cream to wine glass. Fill glass with soda/wine mixture.
The Maliboo
1 part Malibu Original
2  parts Lemonade
Splash of Grenadine
Edible glitter
Instructions
Dip the rim of the glass into edible glitter (optional).
Pour Malibu and lemonade into a glass filled with ice cubes.
Top with a splash of Grenadine.
HENNY-Thing Can Happen!
Ingredients
Instructions 
In a cocktail shaker filled with ice, shake the cognac, liqueur, and juice.
Strain into an old-fashioned glass over fresh ice.
Top with ginger ale.
Float an orange wheel with a lime twist poked into the top.
Have A Happy Halloween!